Regular price
$34.99 USD
Sale price
$24.95 USD
Unit price
per
Sale
Sold out
When you're preparing classic smashed burgers or need to flip a big hunk of meat, you no longer need multiple tools. All you need is this stainless steel, chef-approved spatula. It's big and bold base comes complete with a beveled edge for easy flipping, a sturdy, wood handle for the perfect grip and genuine leather loop for hanging when not in use. Ask any chef, pitmaster or backyard barbecue boss and they'll tell you that this mighty smasher gets the job done the right way.
Features
Heavy-duty stainless steel
Beveled edge for easy flips
Black wood handle
Leather loop for hanging
Width: 4.75 in.
Length (includes handle): 11.5 in.
15 oz. (0.42 kg)
Responsibly made in China
Use and Care
Hand wash
Share
View full details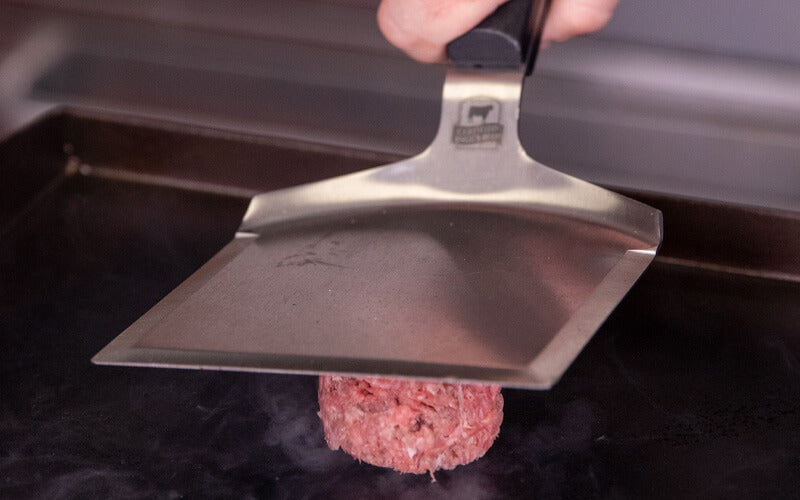 Smash It! Flip It. Stack It.
Heavy-duty stainless steel with big and bold base 4.75 in. by 11.5 in. to smash the biggest of burgers.
Premium Performance & Features:
Sturdy wood handle for the perfect grip and a beveled edge for easy flips every time along with a genuine leather loop for hanging and easy access.
I use it for EVERYTHING!!
I can't tell you how multi-functional this tool is! Its A-game is definitely for making the best smash burgers, but don't limit yourself. I use this for all of my cast iron cooking including pizza. No need for a pizza cutter…this thing has the muscle to do it all.
You know it!! Thanks for the review.
The Best Tool!
This high quality tool is easy to use and helps make the most delicious smash burgers! Used it on our Blackstone to smash the smashable sliders. It's small enough to easily store in your kitchen.
You are a smashing success! We appreciate your 5 star review and expect those smash burgers were delicious and juicy! Keep smashing, beef hero!
Love this for the Blackstone!
This tool is a must-have for anyone with a Blackstone or similar. We use it every time we grill. It's the perfect shape and size and it's easy to clean.
Thank you for your great review on The Smash. It's awesome to hear that you are enjoying this heavy duty tool.
Heavy tool
Tried to get this off Amazon, and they canceled my order after they told me it shipped. So I went directly to the source and saved bucks buying it here. The Smash is exactly what I was hoping for. Heavy tool with a nice riveted wood handle that I will enjoy for decades, and very likely bequeath it to one of my lucky kids. I wanted the best smash burger spatula for my new Blackstone griddle and I've found it. So if you're also looking for the best, you've found it.
We are so sorry to hear about your experience buying our tool through Amazon. We will check in on that. However, we are SO HAPPY you dropped in to our site here to find The Smash. You're right about it being heavy, durable and the best tool for your griddle. That's great, Gary! Thanks for the awesome review. Happy best beef eating!
Great Craftmanship
This is one top of the line grilling tool. Use it for burgers on the Blackstone and on the grill. Heavy duty construction. Holds up nice for the half lb Certified Angus Beef burgers.
Gave some as Christmas gifts this past year to some colleagues in the beef business, all were very pleased.
Thanks, David. Our chef team gave us all the keys to smashing in the engineering phase of this tool. We love that you gifted The Smash to some of your Beef Hero colleagues. That's awesome. Thank you for your kind words and for reviewing our product.