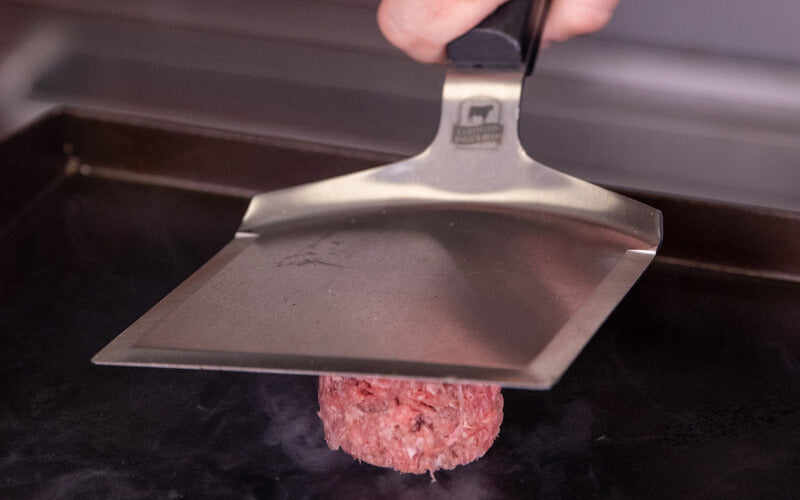 Smash It! Flip It. Stack It.
Heavy-duty stainless steel with big and bold base 4.75 in. by 11.5 in. to smash the biggest of burgers.
Premium Performance & Features:
Sturdy wood handle for the perfect grip and a beveled edge for easy flips every time along with a genuine leather loop for hanging and easy access.
The Best Tool!
This high quality tool is easy to use and helps make the most delicious smash burgers! Used it on our Blackstone to smash the smashable sliders. It's small enough to easily store in your kitchen.
You are a smashing success! We appreciate your 5 star review and expect those smash burgers were delicious and juicy! Keep smashing, beef hero!
Love this for the Blackstone!
This tool is a must-have for anyone with a Blackstone or similar. We use it every time we grill. It's the perfect shape and size and it's easy to clean.
Thank you for your great review on The Smash. It's awesome to hear that you are enjoying this heavy duty tool.
Heavy tool
Tried to get this off Amazon, and they canceled my order after they told me it shipped. So I went directly to the source and saved bucks buying it here. The Smash is exactly what I was hoping for. Heavy tool with a nice riveted wood handle that I will enjoy for decades, and very likely bequeath it to one of my lucky kids. I wanted the best smash burger spatula for my new Blackstone griddle and I've found it. So if you're also looking for the best, you've found it.
We are so sorry to hear about your experience buying our tool through Amazon. We will check in on that. However, we are SO HAPPY you dropped in to our site here to find The Smash. You're right about it being heavy, durable and the best tool for your griddle. That's great, Gary! Thanks for the awesome review. Happy best beef eating!
Great Craftmanship
This is one top of the line grilling tool. Use it for burgers on the Blackstone and on the grill. Heavy duty construction. Holds up nice for the half lb Certified Angus Beef burgers.
Gave some as Christmas gifts this past year to some colleagues in the beef business, all were very pleased.
Thanks, David. Our chef team gave us all the keys to smashing in the engineering phase of this tool. We love that you gifted The Smash to some of your Beef Hero colleagues. That's awesome. Thank you for your kind words and for reviewing our product.
Great Spatula for Smashing Burgers and overall griddling needs. Wide surface area helps with turning many items on the griddle. Very happy with this purchase.
Well, Beef Hero, we are thrilled with your kind words. It is very fun tool. Keep smashing the best beef, Brandon!! And, thanks for your purchase and review.